Study film – become a professional film artist!
Degree: Bachelor of Science (B.Sc.) in Creative Media (Film & Broadcasting) top-up
Applications open for fall 2023
Short programme: 2 semesters
Flexible study alongside your job
No NC (numerus clausus)
Internationally recognized qualification
Industry experts as lecturers
Strong practical relevance
Academic Progression: Master of Science in Project Studies or MBA
Are you interested in film production or perhaps you have already directed amateur productions? Is storytelling through audiovisual your passion?
If you love films or are interested in television, then our bachelor's program is the right programme for you. 
You will become an expert in film theory, image design or camera and editing technology within a year of intensive learning at the TRIAGON Academy 
During your studies you will learn how to present and tell stories and produce them on film and television . This is how you can create emotions and score points with your audience and clients. You will be given the opportunity to decide whether you want to specialize as a screenwriter, cameraman, director or editor.
In our B.Sc. Creative Media (Film & Broadcasting) you set your own priorities – according to your interests.
Short profile of the film studies
Duration of study:
2 semesters (1 year)
European Credit Transfer:
60 ECTS points
Mode of Study:
Full-time – can be combined with work
Study concept:

Virtual classroom study:

Online study with e-learning and live webinars via our learning platform
Application-oriented virtual attendance phases usually on weekends

Service Centers:
Ismaning (near Munich), Berlin, Unna (near Dortmund), Hamburg, Mannheim, Frankfurt am Main
Seal of quality:
Accredited by MFHEA (Malta Further and Higher Education Authority)
Costs:
€7,480 (total; flexible payment models possible)
Postgraduate course:

Master in Project Studies (MSc), Master of Business Administration
​What is the programme about?
During your bachelor's degree in Creative Media (Film & Broadcasting), you will deepen your knowledge of film and set individual priorities . The one-year study program deals with various topics of film art in television and cinema e.g. film production, film technology, film studies, media studies or project management.
With an individually chosen project , you can specialize in specific aspects of film. You can become an expert in shooting commercials or music clips for television – or continue your education as a cameraman.
You can also learn to direct a movie or even write your own screenplay. The opportunities that we offer you as part of your studies are as diverse as the creative industry itself.
We'll also give you insider tips on the film business and put the finishing touches on your skills. By the end of the programme you will be adequately trained to implement your own ideas and innovations.
"At the TRIAGON Academy we prepare you for all the challenges one would expect in the creative industry. You also benefit from our network: Our numerous contacts in the film and television sector will help you to successfully network and build your own professional community. With us you can study while enhancing your personal and professional standing – there are no limits to your creativity!"
Horst Haubrich, Head of the Creative Media department
"At the TRIAGON Academy we prepare you for all the challenges one would expect in the creative industry. You also benefit from our network: Our numerous contacts in the film and television sector will help you to successfully network and build your own professional community. With us you can study while enhancing your personal and professional standing – there are no limits to your creativity!"
Horst Haubrich, Head of the Creative Media department
Recognition and Accreditation of the Study Programme
Triagon is a Higher Education Institution with international accreditation. Our institution meets the European Standards and Guidelines (ESG) as well as the requirements of the German Science Council (WR).
This has been confirmed by the distinguished German accreditation agency ACQUIN, which is a full member of EQAR. The institutional accreditation were granted in full and without conditions.
All degree programmes are accredited by the Malta Further and Higher Education Authority (MFHEA), at levels 6 (Bachelor), 7 (Master) and 8 (Doctorate) of the Malta Qualifications Framework (MQF) and the European Qualifications Framework for Lifelong Learning (EQF) respectively.
All Triagon degrees are internationally recognised and strictly adhere to the standards and requirements for higher education laid out in the Bologna Process. All study programmes offered by Triagon enable students to pursue further studies (e.g. a Master's degree or a doctorate) on an international level.

1-year online bachelor's degree with the opportunity for recognition of previous education*!
Our innovative virtual classroom study explained in one word: flexible!
What awaits you:
Online learning platform for your self-study
Exchange with fellow students
Case Study Based Learning
Own project work
Practical studies
You can complete studies alongside your job. It is up to you whether you work during your studies or not. This is not relevant for your enrolment.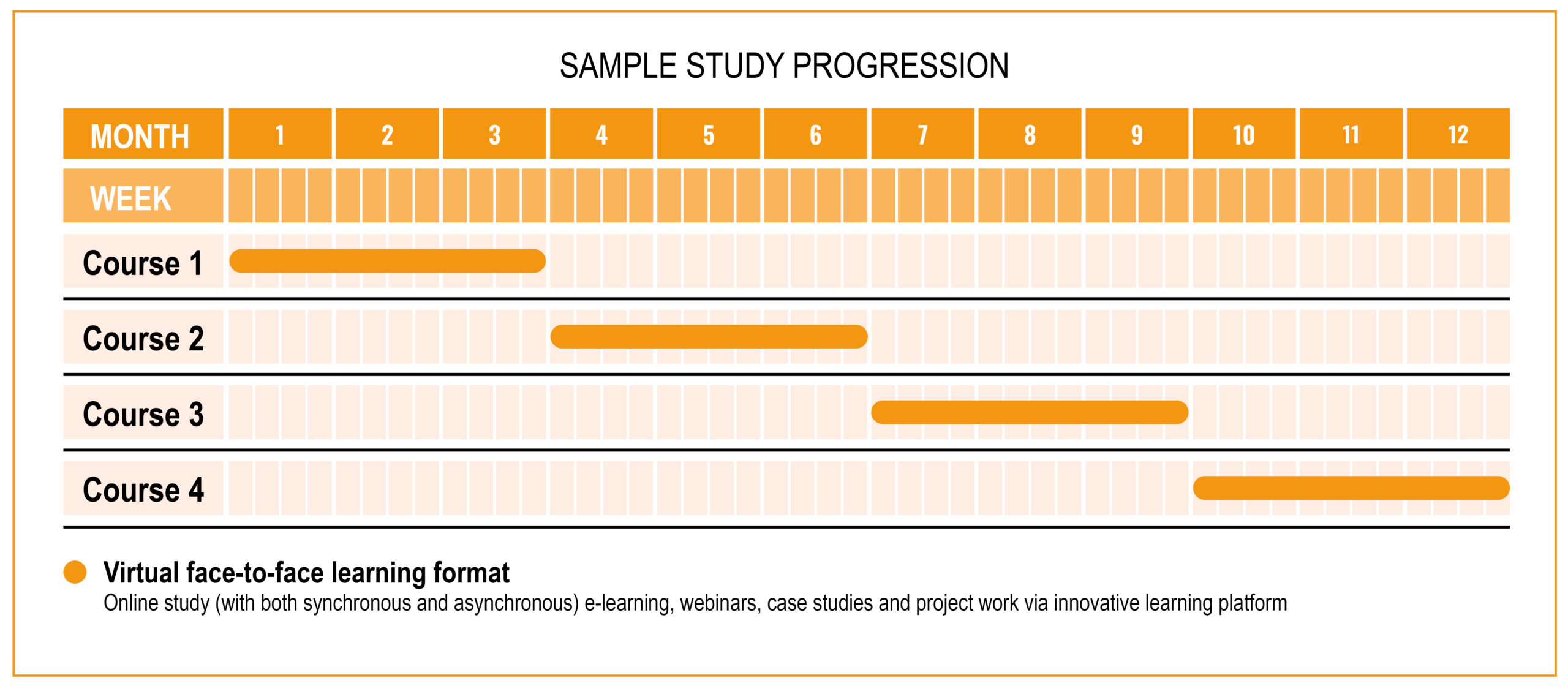 Features of our digital learning concept:
Recognition of professional achievements:
Professional experience and your lifelong training are considered an asset for us!
Study flexibly alongside your job:
The flexibility of the virtual classroom study enables you to study alongside your job , including the transfer of knowledge into practice.
The best of two worlds: The synthesis of distance learning and virtual presence phases:
At the Triagon Academy, the specific advantages of distance learning (independence of time and location) are combined with the advantages of virtual presence phases (social contact including mutual exchange) – so you study flexibly!
Multimedia documents for all types of learners:
The multimedia learning materials on our learning platform (video lectures, online tutorials, online tests, lecture slides with audio, PDF guidelines) enable you to learn efficiently. All types of learners can benefit.
Better learning progress by studying in the block model:
You first go through a course module in its entirety before the next module starts. This allows you to focus on one topic.
Case study-based learning for increased action competence:
Here you will find further information on the study concept of the Triagon.
If you have any questions, please feel free to contact our student advisory service at any time – we will be happy to help you!
Overview of the bachelor's degree​
The Bachelor of Science in Creative Media (Film & Broadcasting) study program is designed to provide learners with the core skills in the field of film and Broadcasting. It comprises four modules that you complete consecutively within 12 months. Your studies will be completed with your bachelor thesis.
In the first module you will deal with current developments in the field of film and broadcasting. You will also deepen your skills in research and practice.
This enables you to work on your individual project within the wide spectrum of film studies in the second module.
The third module is designed to provide in-depth skills on research methods in preparation for your thesis . Here, our study program pays special attention to a current cultural and contextual reference.
So you are excellently equipped to write your thesis in the fourth module.
The course comprises a total of 60 ECTS credits.
Your learning content:
Understanding your role as a film expert on a local, national and international level
Production processes & professional practices within creative media
The film industry in a historical and current context
Systematic knowledge of research practices, procedures and traditions
Dealing with creative processes
Critical Management & Self-Reflection
​Deine Module im B.Sc. Creative Media (Film & Broadcasting)
1: Current topics in research and practice
This module shall provide the necessary knowledge, skills and competencies to the students to autonomously transform research elements into practical ones – this shall allow the students to demonstrate their competencies, incorporating many of the research skills and data analysis developed throughout self-study and direct instruction. The aims of the module are to enable students to develop their knowledge and understanding of the problems and complexities of conducting project research by requiring them to complete the full process of designing and eventually creating the project.
Assessment:  preliminary proposal (20%), project literature review (80%)
2: Your specialization as a film expert
In the second phase of your studies, you will further specialize in your area. This also means that you carry out an independent project in the field of film and broadcasting. This is how you deepen your theoretical skills from the first module.
Assessment: Reflective Journal (20%), Project (80%)
3: Critical and contextual studies in Creative Media
This module shall provide learners with the necessary knowledge, skills and competences to ask questions and find answers; specifically, those bearing on film and broadcasting in the broad sense and to the conventional means to present these. The experience of the module is structured in a way that leads to the submission of the dissertation proposal. The discourse shall include answers to questions that range from practical or theoretical 'how to' or 'what is' exercises; to simple 'what do you think?' form of analysis or reflection; to complex structured responses in the form of the proposal.
Assessment:  Dissertation proposal
4: Thesis
In order to successfully complete your studies, you will write a thesis in the last module . You will work out a critical study on a topic of your choice in the field of film and broadcasting . The topic of your work can be practical, theoretical, technical or historical. You can choose your own topic.
Assessment: Dissertation with Presentation 
Of course, you will be individually and professionally supported by us during the process of writing your thesis.
How can you complete TRIAGON's distance learning studies?
The bachelor's degree in Creative Media with a specialization in Film and Broadcasting is based on our digital study concept ( distance learning with virtual presence) . In this way , you can organize your studies part-time , independent of location and flexible in terms of time .
Would you like to get to know us personally ? This is possible in our local service centers in Malta, Germany and in Hungary. You can find them in Ismaning (near Munich), Berlin, Unna (near Dortmund), Frankfurt, Mannheim and Hamburg, Malta, and Hungary
Study worldwide digitally & live – from home, at work or on the go!
Find out more about the Triagon service centers using the following links:
Main location Malta:
Lectures: Institute of Tourism Studies, Aviation Park, Aviation Avenue, Ħal Luqa Malta, LQA 9023 Malta
Offices: Triq San Bernard, Marsa, MRS1331, Malta
Service Center Ismaning (near Munich): Steinheilstraße 4, 85737 Ismaning
Service Center Berlin: Vulkanstrasse 1, 10367 Berlin
Service Center Unna (near Dortmund): Heinrich-Werner-Platz 1, 59427 Unna
Service Center Frankfurt: Wiesenhüttenplatz 25, 60329 Frankfurt
Service Center Mannheim: Walter-Krause-Strasse 11, 68163 Mannheim
Service Center Hamburg: Subfield 5, 20459 Hamburg
Target group and important requirements
Would you like to know whether the Film degree is right for you? The following qualities are helpful prerequisites for successful studies – and for your later professional life:
Interest in visual media and design
Passionate about cinema and television
Talent in directing, editing, sound or camera work
First practical experience in film production, directing, editing, sound engineering
Knowledge of film production software
Organizational skills
Economical thinking, analytical skills and a flair for marketing
The B.Sc. Creative Media in Film & Broadcasting is a top-up degree program . You can acquire it in addition to an already acquired vocational training qualification – for example as a media designer: in audio & video – or a comparable training.
If you have another professional qualification or professional experience, then get in touch with us – we will be happy to advise you individually on your admission.
Your studies at TRIAGON
When developing our study program , we took into account that personal situations and commitments of a prospective student change over time. That's why we offer you the opportunity to adapt your studies to your life and professional commitments with the Bachelor of Science (B.Sc.) in Creative Media (Film & Broadcasting).
TRIAGON has set itself the goal of enabling as many people as possible to study. The flexible study model otfers many opportunities for ditferent life situations:
Studying as a mature student
Studying with family 
Study without barriers
Job Description:

Filmmaker
Where do film graduates work?
TRIAGON graduates of the B.Sc. Creative Media (Film & Broadcasting) can work in a wide variety of industries. Mainstream work areas can be found in television , in film production companies , in film studios and in film houses . But you can also apply for jobs in marketing departments as well as in event, advertising and media agencies due to the transversal nature of the programme There is also possibility of freelancing work.
What tasks do filmmakers take on?
The range of tasks after graduation is very diverse:                                                                              
pre-production
post production
Set preparation
Editing: Films & Videos
Image composition
direction
writing screenplays
marketing
shooting organization
Acting Guid
What are the future prospects for filmmakers?
After your studies, you have very good career opportunities particularly if you gain practical experience before and during your studies. Priorities can be set in the areas of directing, camera work, editing technology, image technology or film production.
You can also work in business with a degree in the field of film. Your skills are particularly in demand in television and in the advertising and event industry.
What do filmmakers earn?
When entering the professional world, your experience, your talent and your contacts sometimes have an impact on what you earn.
The gross salary of a director is between EUR 1,000 and EUR 5,000 per month. For smaller productions, one earns less with directing work than with large television formats. As a cameraman for television or film, you can earn between EUR 2,000 and EUR 4,800 gross per month.
As a film cutter you will earn around 2,500 euros gross per month. With professional experience, a monthly gross salary of up to 4,000 euros is also possible.
TV stations pay screenwriters between 10,000 and 50,000 euros for  a  good screenplay. A large screenplay usually takes up to two years to complete. As a successful screenwriter, you can count on a monthly gross income of 4,000 euros.
​Admission Requirements
Applicants must fulfil the General Entry Requirements for admission, namely, the Matriculation Certificate and Secondary Education Certificate passes at Grade 5 or better in English Language and Mathematics. Students must also produce evidence of language proficiency at a B2 level referred to CEFR in the language of instruction.
If students do not fulfill all the requirements, they can take additional preparatory courses.
For you this means:
Studying without NC (numerus clausus)
Studying without a high school diploma
Minimum age 20 years
Secondary school certificate
Knowledge of German (C1)
Knowledge of English (B2)
Subject-related training (e.g. as a media designer: in audio & video)
We would be happy to verify your credentials free of charge and without obligation to indicate your eligibility to this programme. Simply contact us by email at: beratung@triagon.mt or by phone: +49 089/ 45 35 218-0 .
Advanced study program
With your Bachelor in Creative Media (Film & Broadcasting), the progression to the next higher academic qualification at TRIAGON is the Master of Science in Project Studies and the Master of Business Administration (MBA) 
Tuition and Funding
The monthly tuition fees (for 12 installments) are 575 euros (plus registration and examination fees). The entire course costs 7,480 euros, which is well below the fees charged by other private universities.
FAQ - Frequently asked questions